31 DEC '19
Hellas Group's President 2020 Welcome Speech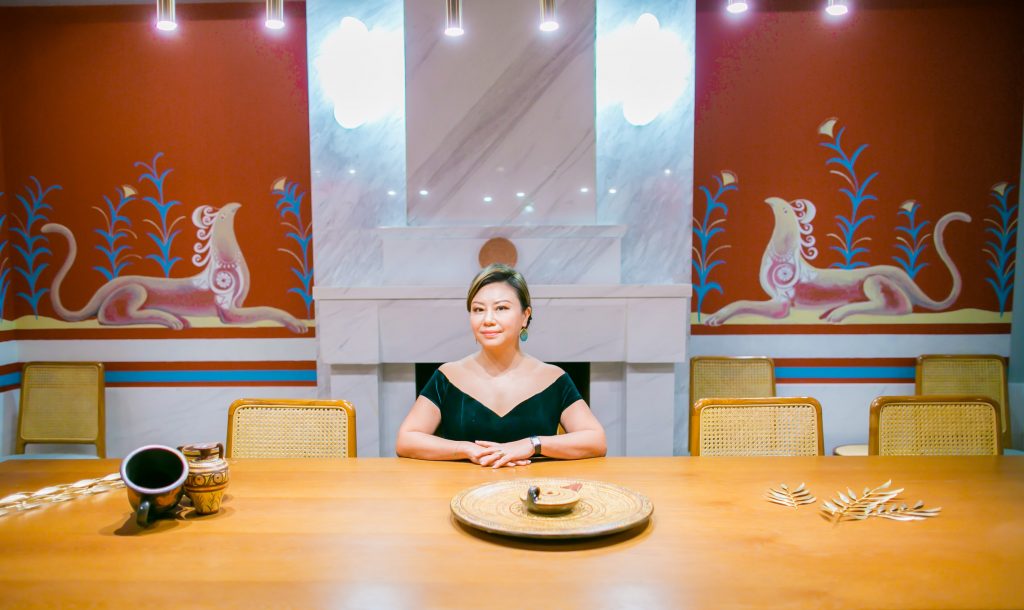 To my dear friends:
Bidding farewell to the old and ushering in the new, year after year.
Hence, once again the time has come to say goodbye to 2019; for Hellas Group, this year has been a rather impressive one!
Under the leadership of the newly elected Greek government, the country's economy has bottomed out and rebounded rapidly. After 5 years of brewing, the 11 subsidiaries of Hellas Group have consolidated their frame structure and are in full swing. On May 15, 2018, Hellas House was officially opened, meaning that Hellas Group was officially launched and, after just one year, it has laid a solid foundation in 2019.
In terms of Sino-Greek relations, in early November, the Greek Prime Minister led 122 representatives of 68 enterprises to China in order to attend the China International Import Expo (CIIE) in Shanghai. Hellas Group along with the Greek government and business delegations gathered in the National Pavilion of Greece. An even greater honour for Hellas Group was on the evening of November 5th, when the Greek National reception was held at Hellas House; following his visit on the occasion of the event the Greek Prime Minister stated: "I could not imagine a better example of what Greece is really all about in Shanghai than Hellas House."
This is the highest recognition towards Hellas Group coming from the Greek government.
On November 11th, at 7 p.m., President Xi led a Chinese delegation to visit Greece at the invitation of Greek President and attended the official dinner held in his honour at the Presidential Mansion. Among the attendees, who had the honour to meet and discuss with President Xi and Minister Wang Yi, was the CEO and President of Hellas Group. A day of great encouragement and support for Hellas Group, and an affirmation that it plays an important role in China-Greece relations not only in the fields of cultural exchanges and economic and trade cooperation, but also in high-level political exchanges.
In the past year, Hellas Group's business has expanded rapidly — high-end travel agency My Odyssey Travel has quadrupled in scale and sales, and has clearly positioned itself, from "luxury" to "travel with purpose", focusing on the wisdom and humanistic experience of ancient Greece. In addition, it is expected to increase fivefold in scale from 2020 to 2021. Erosantorini private estate has seen a 2-3 times year after year turnover increase, since it was put into operation in 2017, establishing a high-end brand image in the Greek luxury hotel tourism industry, with 30% of the World's Top 100 richest people among its clientèle.
The second high-end villa hotel, Eros Cyprus, has been completed and will enter the market next spring, with at least five more villa and boutique hotels to be added by 2020; Elaion Olive Oil has purchased state-of-the-art production lines and has tripled the size of its olive groves; Tselepos Winery continues to grow and expand its vineyards on Santorini island and, with the direct support of the European Union, it has established a global wine marketing center. At the end of 2019, the financial department of Hellas Group was officially established, meaning that its subsidiaries have entered the stage of large-scale expansion!
Hellas House aside being a cultural exchange center between China and Greece is also an Olive Oil and Wine experience center, a Greek romantic wedding planning center, a Greek-themed products exhibition center, and an "incubator" for Greek brands in China – the aim is to gradually land Greek enterprises in Shanghai and create a Global Leaders' Club. Under the banner of Hellas Group all trading subsidiaries have established marketing teams at home and abroad, wisely integrating ancient Greek philosophy into modern management concepts and creating a more harmonious business environment, while making the world a better place.
No dream can be realized without a strong team, especially in a country like Greece, which is full of myths, humanism and philosophy. Hellas Group is building an indestructible team: a management team with passionate Greek spirit, a team of chefs, a team of professionals from various industries and an excellent marketing team in China in order to deliver "The Best of Greece to China and the World"!
Looking ahead to 2020 and waving goodbye to 2019, I would like to express my gratitude on behalf of Hellas Group: thanks to governments at all levels and partners from all walks of life for their support! Thank you to the members of Hellas Group for their firm belief, courage and hard work! Every single drop of Hellas Group's growth is inseparable from your passion!
Hellas Group has set sail! Hellas Group is in its prime and will certainly not let anyone down!
Like the sun in the morning, it is on its way to glory! Ready to welcome 2020, Hellas Group is looking forward to writing a new chapter!
Finally, I wish all friends who sincerely care about and support Hellas Group a Happy New Year! All the best!
Sophia
President of Hellas Group