07 ΔΕΚ '21
Greek PM, Forbes Editor in Chief Participate in an Exclusive Hellas Group/Forbes China Group "Ancient Wisdom, Modern Compass" Event
On November 9, the first in a series of strategic cooperation projects between Hellas Group and Forbes China took place at Hellas House. Attending the exclusive "Ancient Wisdom, Modern Compass" dinner event to discuss innovative directions and business models in the new era and cross-cultural business opportunities were Hellas Group's founder and CEO and President Pavlos Kontomichalos and President Sophia Kontomichalou, Li Siwei, Chairman and CEO of Forbes China Group, Forbes China Group Executive Director Ren Yancheng, Forbes Editor-at-Large Russell Flannery, Forbes China Group Chief Revenue Officer Qi Zhenming, Shanghai Foreign Office European Office Director Li Chunping, Director of Changning District, Weng Huajian, Vice Governor of Changning District, Vasileios Koniakos, Greek Consul-General of Greece and Italian Consul-General Michele Cecchi, and distinguished entrepreneurs, investors, industry leaders and sponsors from different sectors.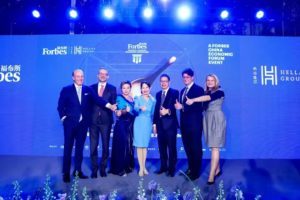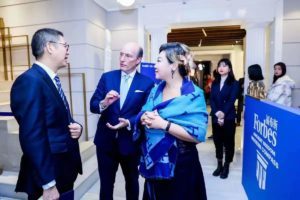 The event commenced with a welcome address by Mr. Pavlos Kontomichalos, founder and CEO of Hellas Group, and Ms. Tiffany Yam, Executive Director of Forbes Group.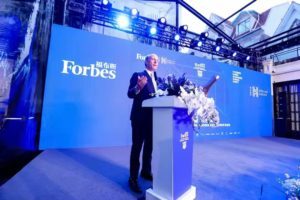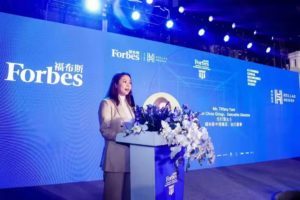 In his remarks, Mr. Kontomichalos discussed the significance of life value as an entrepreneur responding to modern trends. He emphasized that the value of drawing upon the wisdom of the ancients transcends lifestyle, and that meaningful inspiration on how to overcome modern obstacles and challenges can be found in ancient wisdom. An inquiry into the value of life, Mr. Pavlos Kontomichalos said, can be summarized by the acronym TRUST – Trend, Respect, Unique, Sustain and Team, which combined form the basis of successful entrepreneurship, as without trust engenders positive cooperation and beginnings. At CIIE, Hellas Group additionally debuted its fourfold thematic concept of 'EBIT' – E (Eat), B (Beauty), I (improve), and T (Travel), as guidelines for achieving and enjoying a healthier and happier lifestyle.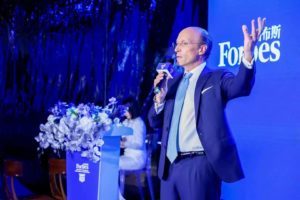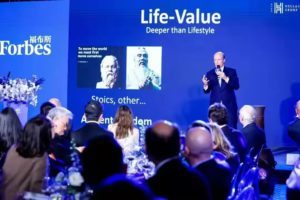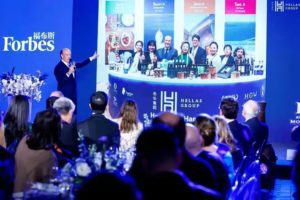 The exclusive dinner culminated in a 20-minute high-quality dialogue between Greek Prime Minister Kyriakos Mitsotakis and Forbes Media Group Chairman and Editor-in-Chief Steve Forbes, during which Greek PM Mitsotakis shared his perspective on the positive bilateral relationship between China and Greece, and the mutual cultural attraction that has existed between ancient China and Greece since ancient times. During the discussion, Steve Forbes praised Greek PM Mitsotakis for his stewardship of Greece, and helping free the country from its decade-long economic woes through tax cuts and other reforms, calling it an astonishing economic miracle.
Prime Minister Mitsotakis also said: "Greece's GDP growth of more than 6% this year, and this good performance helps attract new investment. Tourism, especially from China, is also expected to reap benefits. Because Chinese tourists are interested in culture, it is important for Greece to continue to build closer cooperation with China in terms of culture." Their thoughtful conversation drew enthusiastic applause from the guests in attendance.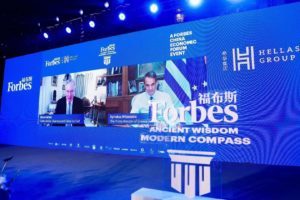 Forbes Senior Editor Russell Flannery, Greek Consul-General in Shanghai Vasileios Koniakos, and Italian Consul-General in Shanghai Michele Cecchi, discussed diplomatic exchanges and the promise of China-Europe relations.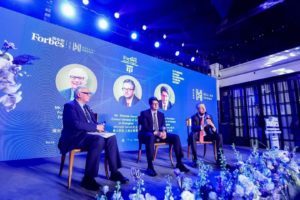 Ms. Jane Sun, CEO of Ctrip Group, delivered a speech on the theme of the tourism boom in China and Europe, underscoring the fact that China and Greece are both civilized ancient countries with long history, vibrantly brilliant cultures, and beautiful scenery. She also cited the attraction of Greece's ancient wisdom, and its historical and humanistic sensibilities, as important factors in Greece's enduring appeal as a tourism destination.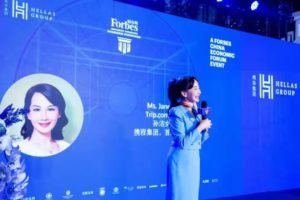 Also invited to speak at the event were additional leading founders, CEOs, investors, economists and industry leaders.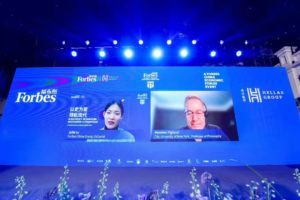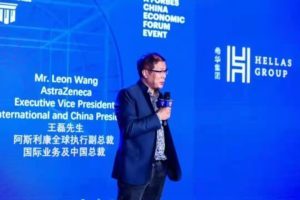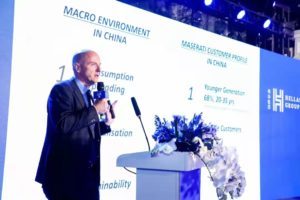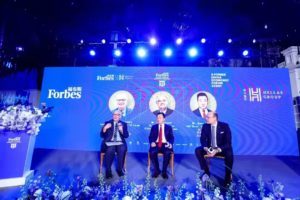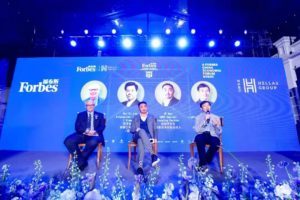 At the end of the dinner, many guests were reluctant to leave, having been thoroughly engrossed in such an immersive high-end dialogue and forward-looking exchange of ideas. The general consensus was that it had been one of the most high-caliber and insight-rich seminars in recent years, with guests uniformly looking forward to equally inspiring seminars in the future.
The exclusive dinner marked the initiation of an exciting new strategic cooperation between Hellas Group and Forbes China Group, and spotlighted the enormous developmental potential between China and Greece. Both China and Greece have markets awaiting further exploration, and future Forbes China and Hellas Group will create an ongoing series of proprietary, co-branded events and sponsorship opportunities in the fields of entrepreneurship and innovation, healthcare, experiential tourism and hospitality, education and learning, environment, personal care, the arts, and healthy life. It is believed that this exclusive dinner will serve as a platform for a broad exchange of views among participants and will promote further research and action to build a better trading environment. A fitting tribute to the power of ancient wisdom to guide, improve and innovate modern leadership!